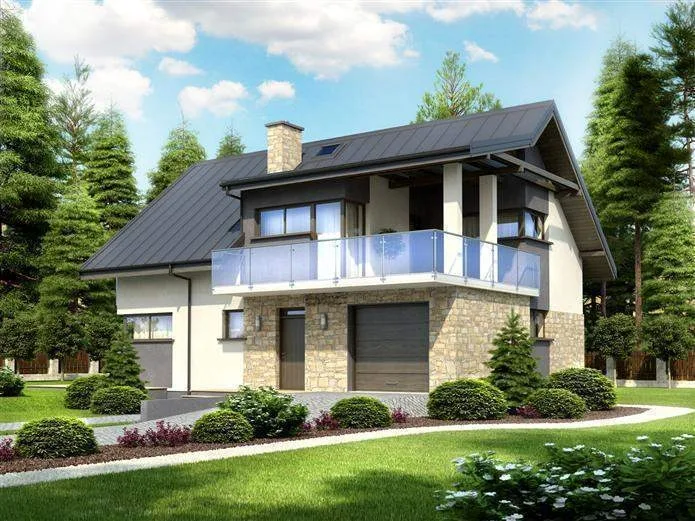 Imagine a weekend in your own wooden cottage, traditional and stylish, and we, Plansarchi.com, will provide the reasons why you should build one. First, the construction land required is cheap and access to utilities is easy well if you choose a well oriented piece of land. The building itself is ready in no time and the price is affordable.
Also, taxes and maintenance costs, are within a reasonable level, so you will just have to dare to take this step and develop your own wonderful holiday house plan. If finally you decide on a holiday house, consider a few, aspects, first.
[adsenseyu1]
For example:
1. The distance from the place of residence must be no more than 3 hours away.
2. The weekend traffic on these routes: if you do not want to lose half day Friday and half on Sunday, you should think seriously about comfortable alternatives.
3. Access to location: depending on the car you own. Special locations are generally in areas with limited access to 4×4 vehicles. It is best to take into account the option when it rains or when it snows, version.
4. The price for the land (if you opt to build it on your own): depending on the pocket, the easiest way is to look for private owners, post a buying offer or look for specialized agencies in mountain land or other desirable areas. In general, the available offers for low budgets are found in the local newspapers.
5. Incorporated or unincorporated land? New regulations require a minimum of 12000 sqm if you want to build a house and 5000 sqm for a pension in unincorporated areas. Beware: the category "forest land" allows you to build up to only 5% of the surface! Yet land situated in the built-up area entails certain advantages: the obligation of local authorities regarding utilities, roads. Also has the advantage of simplified bureaucracy for the building permit -which can be obtained locally, unlike the land situated in the unincorporated areas, which is granted only by the County Council.
6. Narrow the search area: area, type of terrain, budget. For the same budget, you can get more or less land depending on location.
[adsenseyu1]
7 Utilities: electricity is important to be nearby. For the rest there are other possibilities: (especially for mountain locations) drilling (water) or fitting (septic tank). Generally holiday homes are heated with wood.
8 Negotiate advantages over price:
In general, the one who sells the land knows the local law, the bureaucracy of the local resources of any kind. It is more efficient to negotiate benefits than costs, such as: geo study, topographic lifting, urbanism certificate, permit assistance, local labor, natural materials and suppliers in the area, fencing, caretaker etc.
9. Administration features: we are talking about areas dedicated to development. The major advantage: you can recover your investment, you have someone to take care of the house, you can choose the periods in which to come, cleaning, heating, garden, and local commissions services.
10. Neighbors: If you have a holiday house it is important to know the kind of people your neighbors are… as possible. For you do not want to live a nightmare!
Finally, in holiday houses, the first choice is related to the use of natural materials: mainly, wood, a thing to which Plansarchi.com also complies starting with our simplest to our most exquisite plans. You can have your holiday house build with 1 or 2 bedrooms, even 7 bedrooms if you plan to invite the whole company, including many other facilities: storey, garage, attic, roof terrace, sloping roof. And why not stand higher above ground and plan a holiday house with a floor, for our strong structures enable us to do just that. Be creative! Get inspired! Check our wonderful holiday house plans on line.