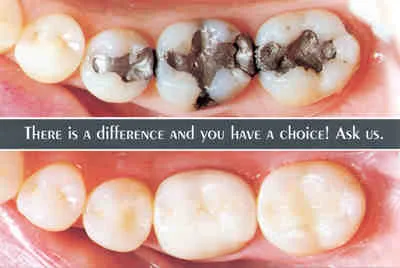 Many of us have already underwent a dental restorative procedure, such as a filling or a dental crown. There are several types of restorative materials : porcelain, gold, other metal alloys or composite resins.
Dental composite resins are synthetic resins, which are used as restorative materials ; dental composites can be used for many types of dental restorations, such as fillings, dental crowns or bridges, inlays or veneers.
One of the main advantages of composite resins is the bonding feature. Dental composite chemically bonds to tooth structure ; this will strengthen the tooth structure and greatly improve the connection between the restoration and the tooth. If you want to learn more about this important feature, go to this page .
When it comes to fillings, dental composites have improved aesthetics compared to traditional materials such as amalgam. Composite fillings can be closely matched to the color of the adjacent teeth, allowing near invisible restorations.
[adsenseyu1]
Besides fillings, dental composites have many other applications. For example, dental composites can be used to fill gaps between teeth or to construct full or partial dental crowns. Composites can also be used for veneers, dental inlays or dental bridges.
A particular dental bridge made of composite resins is the adhesive bridge. Adhesive composite bridges involve attaching a false composite tooth that is modelled either by the dentist or by the dental technician, to neighbouring teeth with the bonding technique. The main advantage of this method is that there is no grinding of neighbouring teeth.
Dental composite can be used in two different ways : direct or indirect method. Direct dental composites are placed by the dentist in the dental office. These are generally used for filling cavities. In this case, composites are placed while still in a soft, dough-like state, shaped by the dentist with specific instruments, and then exposed to light of a certain blue wavelength (with the help of a hand-held curing light) that will polymerize and harden the material into a solid filling.
[adsenseyu1]
Indirect dental composites are cured outside the mouth, at the dental laboratory. Indirect composites are cured for longer times in processing units capable of delivering higher intensities and levels of energy. Indirect composites can be used for various types of dental restorations : dental crowns, dental bridges, inlays or veneers.
Composite vs Porcelain? When indirect restorations are involved, even if today's composite materials can provide a beautiful appearance and can last for a long time, porcelain is more durable, it does not wear under pressure and is better aesthetically. However, composite restorations are cheaper. Nevertheless, when a filling is involved, composites are the option of choice (porcelain cannot be cured inside the mouth, so a direct filling cannot be made of porcelain).