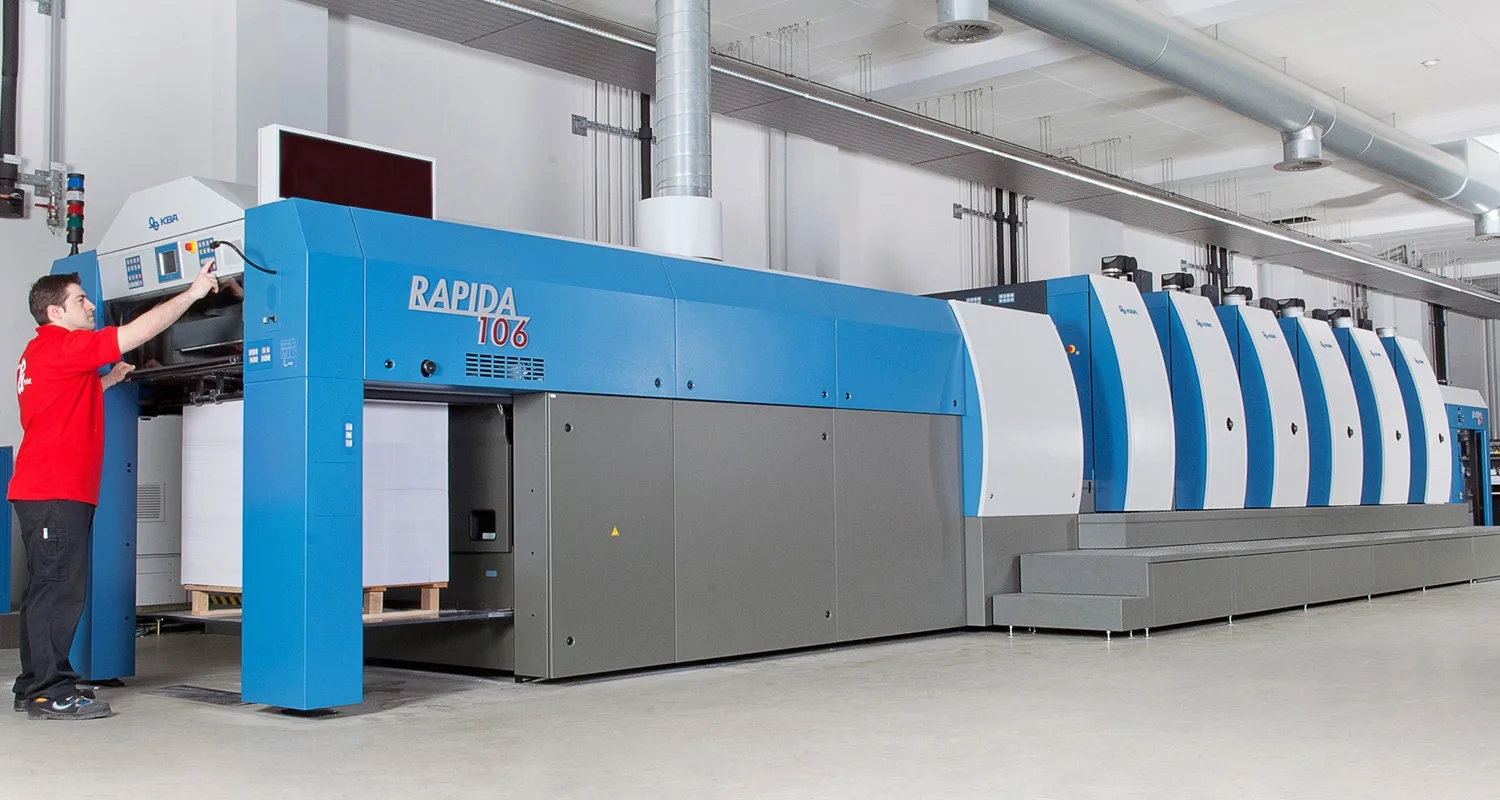 Perhaps the most famous among the KBA machines are the Rapida models .  For those who have no idea about the performance of Rapida 106, for instance, here they are briefly: 1,060 x 740 maximum format, up to 8 colors on one side or duplex, 4 + 4, maximum speed 18,000 sheets per hour simplex, 15,000 duplex.
The KBA Rapida 106, shown in 2012 is a machine with 12 units of printing, coating and drying, with 4 color + coating groups, two groups of drying plus four color groups + coating. It is a machine equipped with a simultaneous plates changing system, with washing the machine in sync with changing the plates, with the ability to adjust color and in-line registry. And yet, there are a lot of small very important and essential changes to improve the operation of the machine.
The presentation of the machine's performance  is made by printing 4 works, 4 colours + coating on one side and  4 colours + coating  on the other side, two works of this kind, then two works with printing only on one side, 4 colours + coating, all in 400 copies and printed in 12 minutes. And the change between the last two jobs that are printed on one side with 4colours + coating is made on the move, at a speed of 18,000 sheets / hour.
[adsenseyu1]
This machine can print, if only on one side, without stopping. While the first section of the printing machine prints 4 colours + coating, the second part of the machine, the following groups of printing and coating, change their plates, groups are washed and ink keys preset in order to start working as soon as the work in the first section ends.
A new functionality record, not approved yet, but worth telling is related to the new system for automated plate changing (DriveTronic SPC),  demonstrated by printing 15 different sheets in a print run of 520 copies each, in 59 minutes and 36 seconds and with the help of only two operators.
At the moment, in Romania the 50x70cm format seems to be mostly used. For the 50×70 cm format KBA has an absolute novelty. It is a printing machine built from scratch. KBA Rapida 76 is built to be the flagship in its category. It has the same automation systems as Rapida 106, simultaneous plate changing, correcting online registry and color, paper feeding paper using a paper feed sensor system, so there are no more sides register, whom we are familiar with from older models . It is a machine with a high degree of automation. It can change from one project to another in a maximum of 2 minutes.
[adsenseyu1]
KBA Rapida 106-10 prints 15,000 sheets / hour and is champion of preparation of orders, being able to produce more than 100 daily papers. The total investment is however high, including, besides the printing machine, a complete finishing line (a machine for folding and stapling together, guillotine).
But even if you are thinking big but have less money there are a lot of Rapida models ready to be refurbished and serving quality printing. So, if you decide to buy a used KBA press, make sure you know where to find them. In order to make your search as efficient as possible we just might give you a suggestion: Usedpresses.org.
When dealing with a wide spectrum of substrates the Rapida 106 is perfect for the job. For example, you could be printing financial work on lightweight offset and then need a  rapid changeover to packaging work, that needs to be printed on thick board, the Rapida 106 allows you to do so in the easiest way!